Occupational Health and Environmental Management ISO45001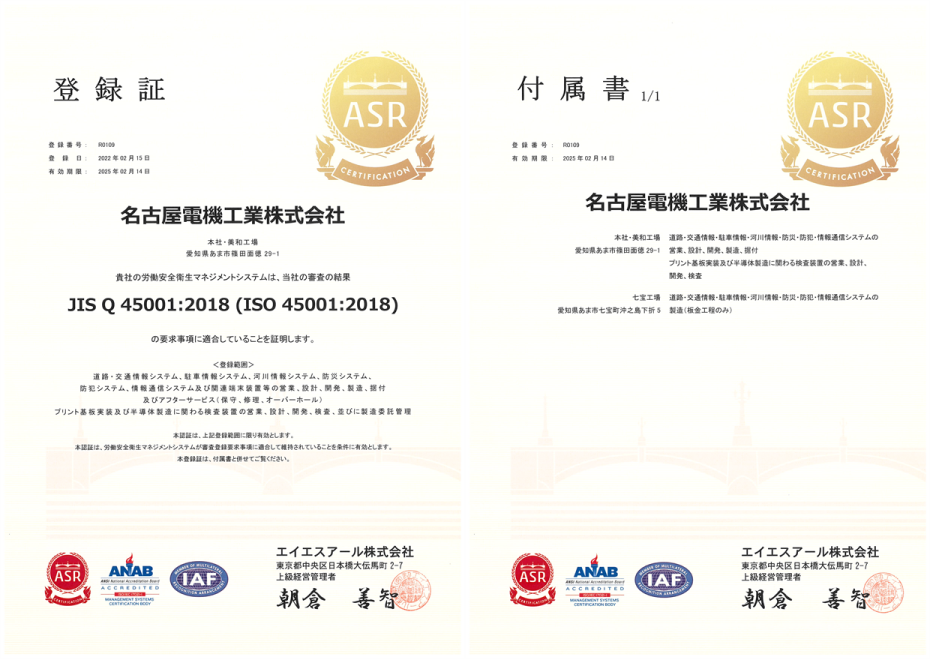 We obtained ISO 45001 certification in February 2022. ISO45001 is a global standardization certified by ISO (International Organization for Standardization) for management specializing in occupational health and safety, and its purpose is to prevent worker injuries and illnesses and provide a safe and healthy workplace. We expect to prevent and reduce accidents during maintenance and other operations of our products through the implementation of ISO 45001.
In addition, in order to contribute to the further development of society, it is important to improve job satisfaction by expanding the working environment and promoting work style reforms. We are committed to creating a safe and secure working environment and to contributing to the enhancement of everyone's vitality so that each and every one of us can work safely, healthily, and vigorously and lead fulfilling lives.
Case Study 1
Introduction and practice of risk assessment:
Risk assessment is a method for identifying potential hazards and harmfulness in the workplace and eliminating or reducing them. Even in workplaces where no accidents have occurred to date, potential hazards and harmfulness exist, and if left unchecked, could one day result in an industrial accident. With the objective of maintaining and improving occupational health and safety in all of our workplaces, we have introduced and are practicing risk assessment.
Case Study 2
We conduct health and safety workshops for our employees on an irregular basis. The mental and physical health of all of our employees is of utmost importance to us, and through these study sessions we educate our employees on the importance of mental health care and health checkups.
BCP (Business Continuity Plan) Initiatives
Basic Policy
As a Company Group that supports a prosperous society, including safe and comfortable road transportation, we have a sense of mission that the continuity of our group's business contributes to the continuation of socioeconomic activities.
Our basic policy is to fulfill our social responsibility by minimizing our own human and physical damage in the event of major disaster or other risks, and by continuing important operations to the greatest extent possible.
Action Guidelines for Business Continuity
1. We act with the lives of our employees and their families as our first priority.
In the event of a life or physical danger to our employees and their families, the safety of our employees and their families shall be given the highest priority.
We protect the employment of our employees through the continuation of our business and even the perpetuation of our company.
2. We strive to minimize the impact on management.
We strive to preserve and quickly restore company assets, and fulfill our responsibility to supply customers.
We strive to disclose information to our customers and act with the highest priority on maintaining relationships of trust.
We provide restoration assistance to our business partners as much as possible.
3. We fulfill our corporate social responsibility by performing important tasks.
We cooperate in the early restoration of social infrastructure in road transportation by responding to requests from related parties.
4. We fulfill our responsibility and contribution to the local community.
We control the risk of secondary disasters that threaten the lives and health of local residents and lead to environmental pollution.
We cooperate with the local community and strive to contribute to the community through restoration support.
The Company Group is fully aware of its role in the above and will act organically.